As well as writing and making and drawing and treasure hunting, I also like to spend my time planning weddings and events…..
I have been professionally producing creative events and organising weddings for over five years, with experience working as a supplier, a caterer, a venue and for a creative agency.
I am now available for freelance work, short contracts and part time work in events, and am looking to take on a few more couples for weddings this summer and in 2014. I am currently delighted to offer a free initial consultation to couples looking to get married in North Hertfordshire or London, subject to my availability, so please get in touch for a no-obligation chat!
I always aim to work as creatively as possible, and the most important thing to me is to convey a personality through each event. I love to work to unusual briefs, and specialise in bringing your ideas to life by carefully planning each detail and using my extensive logistical experience.
I have worked with hundreds of venues in London and around the UK, but I'm always interested in a new find, or working with a venue that's not really a venue! I work mainly in London and Hertfordshire, and offer comprehensive packages at very competitive rates. I am also happy to work further afield, so do get in touch for a chat about what I can offer.
I look forward to hearing from you!
Ems x
"I wanted to tell you that we found the time spent at the Globe perfect from every point of view, and all our guests agree with us! Everything went smoothly and was so fine-tuned that we had a perfect frame for the emotions of the ceremony, the joy of being together and the happiness for a long expected day finally come true. Everything was extremely professional but not in a mechanical and cold way: your way of working is more like a symphony: precise, timed but also human and full of emotions. We've received only positive reviews from the guests and Cristian and I agree without any second thoughts. The food was amazingly good and don't forget that you had nearly 70 Italians to satisfy!!! And for you, Emily, a big big big thank you! Your sweetness and kindness has made it all easier, and your very presence was a certainty for a positive outcome. You all made our special day even more special and we'll never forget you!"
The Civil Partnership of Federico and Cristian (as venue Wedding Planner)
Photos and video from the wedding of Fiona and Niels (as venue Event Manager)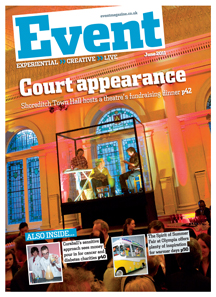 Time Out names Royal Court Theatre Gala Party one of the best events of the year (as Event Producer and consultant)
More on the Royal Court Theatre Gala
On the Waitrose Summer Party (as Event Producer)
Private Birthday Party with a Midsummer Night's Dream theme (as Party Planer)