I think it's pretty fair to say that our hound, Cooper, is a pretty pampered pooch. He gets LOTS of love and affection (maybe even too much if that's possible!), lots of yummy treats (lucky for him he needs feeding up!) and no less than four very comfy beds all around the house (plus his favourite, the sofa!). As happy as he is though, I don't really consider him spoiled, and as much as he probably doesn't *need* anything else, that won't stop me from wanting to splash out on some seriously luxurious creature comforts for him….
Coops has a lovely waterproof and padded coat, which is very necessary for such a skinny breed in this weather. It looks like he's going to need to keep wearing it for a good while too, as the weather is set to continue in its vile frostiness….so perhaps it wouldn't be *too* naughty to splurge on another coat?! And what could be more practical, and befitting of our little country gent, than these gorgeous dog coats from Barbour. I bought one myself last year (a ladies one, not a dogs one of course!) and it's been one of my best investments ever, with this perpetual precipitation, and I can see it lasting forever. The doggy versions come in waxed, padded and tartan designs, in various sizes to suit your beloved pup, and start at just £29.95.
I had my eye on these beautiful dog beds from Joules long before Cooper even arrived! They match beautifully all their homeware ranges, and so I'd just adore a complete matching set! There are mattress style beds in various patterns and sizes, but it's the 'snuggle beds' I have my eye on for our hound, who loves to curl up all cosy! They start at just £24.95 for the smaller snuggle beds, going up to £69.95 for the biggest mattress bed.
Coops doesn't want for blankets, that's for sure. He has a whole collection of nice fleecy ones, including one he just inherited (a lovely pale blue one which my Mum gave to him this weekend!). Still, his country gent look would really benefit from the rather luxurios Appleby Harris Tweed Dog Blanket by Lilly Shahravesh, from Love Your Dog. It's £165 and made from finest Harris Tweed and Sherpa Fleece. There are even matching beds and carriers (not to mention their gorgeous greyhound coats!).
Cooper already has two lovely collars (with matching leads, obvs)….his smart cherry red collar for weekedays, and his rather more rustic, chocolate brown rope style collar for weekends. But what he doesn't have (yet) is a bow tie! How adorable is
this Chevron Bow Tie Collar
from
PAWSH Accessories
on Etsy?! The hound's best colours are powder blue and bright red, so he'd look so dashing in this! It's £18.87 and comes in different sizes to suit your very own pooch.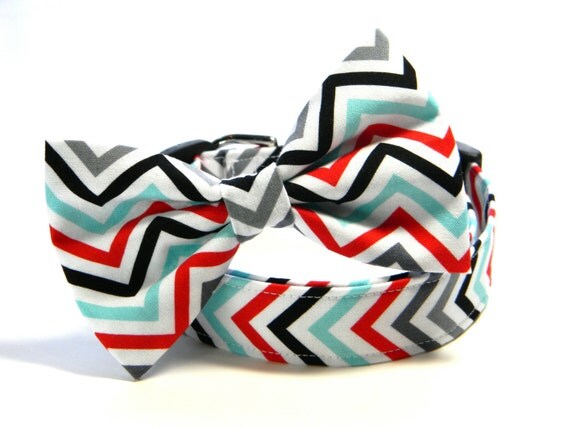 My first job as a student was at the Wedgwood shop back up in Stoke. When I was there, they released the stunning black and white jasper ware range by Nick Munro, and I remember deciding way back then (long before I even had a dog!) that this beautiful dog bowl would be mine. Unfortunately, they no longer make them, so I'll have to count on being lucky and finding one on a china matchings website….but it SHALL be mine!!!
Or rather, Cooper's.
Ems x