I've had a thing about bags for as long as I can remember. I recall as a child I'd blow any money I had on a new purse or bag at the first opportunity….and with all my money spent I'd have nothing to put into it! The 'problem' once got so bad that I had to limit myself to buying just one bag a month!
I've rather curbed the habit since then, favouring buying 'investment' bags to last me forever, and I'm currently in the process of streamlining my collection (I have a walk in wardrobe dedicated to accessories and it could do with a tidy up!). I do think though that you REALLY can't have too many tote bags. They pack down flat, they're inexpensive, last well, don't mind being chucked in the washing machine and are infinitely useful to keep around. I have a big one filled with lots of others, and they're just perfect for using for supermarket shops, throwing parcels and purse in when going to the post office, and for carrying lunches and documents to the office.
I also think tote bags are a rather wonderful way of buying into a new trend you like, your new favourite style, or just to show off your love for dogs or knitting or whatever. The nicest ones in my opinion are the pretty illustrated ones by independent designers, and I do love to carry a piece of artwork around with me!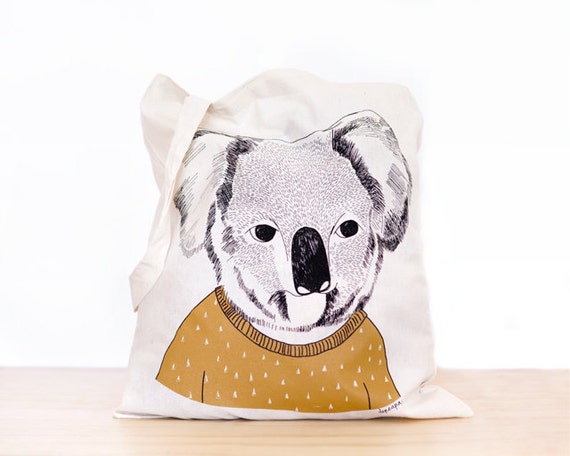 Koala Screen Print Tote by Depeapa, £14.11 on Etsy, via Craft Gawker
How could you not feel cheered on a shopping trip with this fellow on your arm?! I love a Warly Bear (or Koala Bear if you prefer) and this chap is so charming with his smart yellow jumper!
Rob Ryan Canvas Shopper by Wild and Wolf, £7.50 on sale from £14.95 via Bloomsbury & Co
I actually have this one and I love it! I fell in love with the design when I visited the Ryantown shop on Columbia Road, and the bag itself makes me smile each time I look at it….I think it's a rather apt saying for me! It's a good size with a gusset bottom and a little zipped pocket inside, plus it's a really sturdy, heavy canvas….a total bargain at the sale price!
Dachsund Tote Bag by Jeff Josephine Designs, £10 on Folksy
I adore this little guy! He reminds me a lot of my Digby hound, with his little Queen Anne legs! I am crazy about his striped scarf too!
'Bad Mother Knitter' Bag by Kelly Connor Designs, £13.75 via Not on the High Street
Hehehe! I love a pun, and a shiny gold print….. not to mention knitting! This one would be super cute to collect all your yarns and knitting pins together in!
Tipsy Badger Tote by Sophie Parker, £12 on Etsy, via Boys with Banjos
This badger knows how to live! Look at his shorts! I love this guy, and I have a certain badger-mad friend who will go crazy for this I'm sure…. especially as she's partial to a glass of vino too!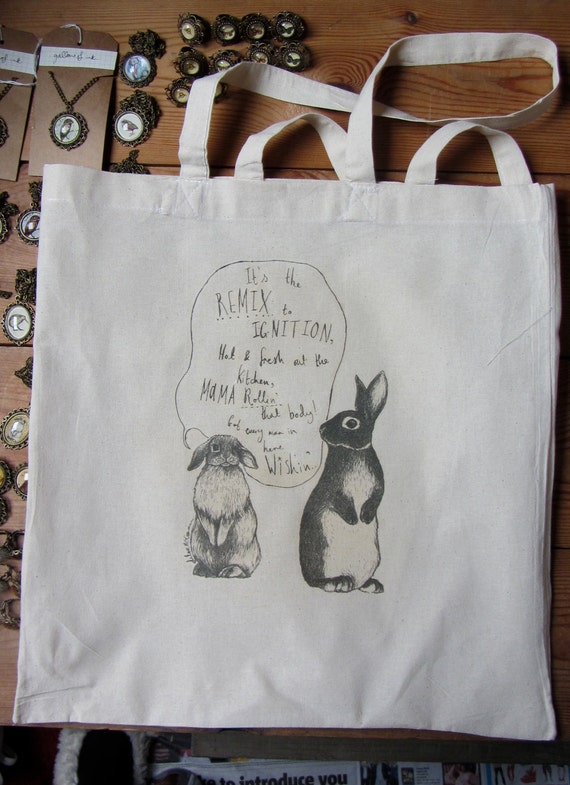 'Ignition' Illustrated Rabbit tote by Gallons of Ink, £6 on Etsy
Pretty sure this one is my favourite….there's something about the juxtaposition of these cutesy little bunnies and the innuendo-filled R&B lyrics of R Kelly's 'Ignition.' So much fun!
How about you? Are you bag mad? Do you have a stash of totes for running errands with and cramming treasures in?
Ems x